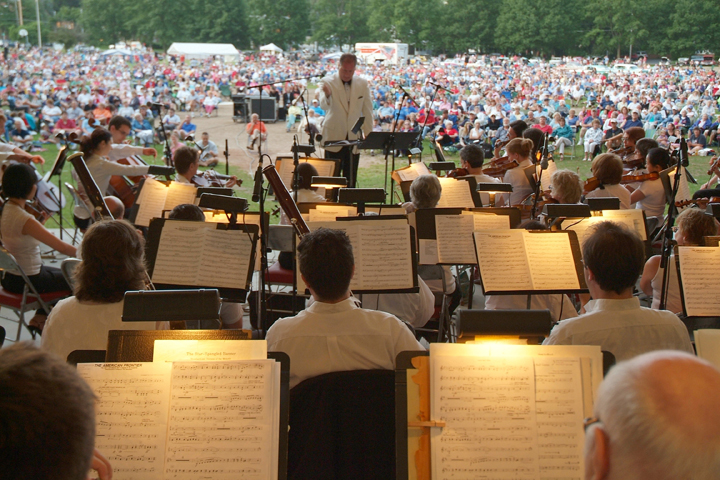 This past July 3rd Robin and I decided we would attend the Glens Falls Symphony's free concert in Crandall Park. The tradition has come back after taking a hiatus for a few years because of COVID. It was a wonderful slice of America and another reason why we love this community. The Glens Falls orchestra is a group of professional musicians totally supported by sponsors and organizations; therefore, making Glens Falls the smallest city to have its own symphony! If you haven't attended one of their concerts, you should make plans to do so soon.
I love all kinds of music but listening to a large orchestra is especially enjoyable to me. Not being a musician myself, I am in awe of their individual talents and commitment to the art that creates this magical sound for the listeners' enjoyment. Their selections for the evening, were a predictable mix of patriotic songs, show tunes and some pop music. The evening started out with the playing of National Anthem which I found to be especially moving on this evening. Most of the crowd stood and joined in singing the words. I did notice a group of young women who sat in silence and bowed their heads. Afterward I saw their matching shirts and the message: "Women's Rights are Human Rights." As a husband, father and now grandfather to amazing women and girls, I understood why they choose not to stand. While we may not agree with this for one reason or another, the fact that that they and others, came together as a community, was still something to celebrate. It was peaceful and respectful gathering of individuals of many backgrounds and beliefs.
The Foundation is also celebrating a very eventful season. With your help, we just awarded over $15,000 in grants to organizations that are making a positive change in our community. The gathering in Crandall Park was, in the end, a celebration of community and each person there had a personal reason to participate in their own way.
Just as the symphony depends on everyone doing their part to create that magical sound, the Foundation and the work we hope to do needs each of us to do our part and work together. Our strength and effectiveness are dependent on all staying involved in respectful discourse and actions. We know the most effective changes occurs at the grassroots level and the ability to work together for a common good. Thank you for your continued support of our efforts to create a community that celebrates an active lifestyle, promotes social and environmental justice and helps lift those who are in crisis.
Thank you,
Bert